Search Tips & Advice

With 164,729 tracks in our catalogue, you may not know where to begin with your search. We've put together these simple tips to help you easily find that perfect track.
However, if you still can't find what you're looking for, get in touch. We're always on hand to help whenever you need us!
1. Keyword search
To find your ideal track, try entering strings of words or adjectives into the Quick Search box in the top left hand corner of the site. We recommend using the MIST acronym.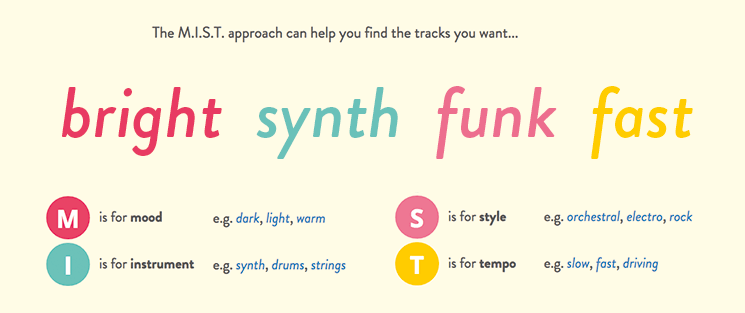 ​So, your search term might be 'fast optimistic indie rock' or 'slow sad orchestral cello'.
2. Browse by category
Our music catalogue allows you you to fine-tune your search by drilling down to find the tracks you want:
3. Advanced Search
By combining the points above in the Advanced Search, you can mix categories and keywords at the same time. You can even refine your search for tracks in particular keys or tempos, as well as a number of other parameters.
If you want to match a specific track use the beat calculator, next to the music player, which will tell you the tempo of your original track - then use the Advanced Search to find all tracks in the same style and at the same speed.