Jerry Zoumis: Creating a winning animation

By: Jess Ossington
Date: 18 Dec 2012
The Sydney Audio Network team recently attended the star-studded
Open Road Film Festival
screening party.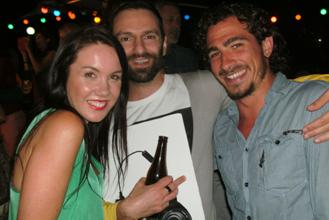 Jerry Zoumis with Jess & Harvey from the Audio Network Sydney team.
The Open Road Film Festival is a short film competition conceived by Australian film industry legends Bryan Brown & Gregor Jordan. As a unique twist, entrants were given the ending of a film and ask to come up with the beginning.
We caught up with runner-up winner and first-time animator Jerry Zoumis...


Jerry's creative background
I went to the Salvador Dali exhibition in Melbourne several years ago and decided I wanted to become an artist. After I realised painting is really hard I enrolled in a Graphic Design course. On the last day of the course I was told to resubmit an assignment for gourmet ice cream packaging. My ice cream packaging showed a 60 year old woman seductively holding melting ice cream in her hands. I refused to resubmit the assignment and I did not get my diploma... and clearly I still hold a grudge.
Every year I enter small, local film competitions. After 5 years of coming last, I decided to make a more polished, less Ed Wood short film. I figured the best way to do this would be to combine my Graphic Design skills with my love of storytelling, and that's how I ended up making my first animated short film
The Queen of Hearts
.
Style and Inspiration
I've worked in two video stores over the years and that has probably played a big part in my creative style. I love all the "weirdo" art house movies that usually get hidden under the avalanche of big, boring blockbusters. I also enjoy horror movies. A good horror movie gets all the senses working. I find comics to be another form of inspiration. Words and illustrations combined is a glorious thing. Anyone who's read
Watchmen
or
Fray
or
The Walking Dead
knows what I mean.
Being someone who shies away slightly from the mainstream has made my style more subversive, and I try my hardest to steer clear of the expected. There is usually a dark streak in most of what I do. My sister says that she is still waiting for me to do something "nice". There is definitely a place for all the nice stuff, but we need the dark stuff too. A challenging or confronting movie/book/song that makes you feel like you are not alone is better than a movie/book/song that makes you wish you were different.
The ending is the beginning
Having
the ending
already in place created a set of structured, but flexible boundaries to work within. I used the end sequence as a resource that I kept going back to for more ideas to use in the animated sequence. By using animation I could really take those elements from the ending (the characters, the location, random objects) and twist them in a way that would have been very difficult in real life. For example: a woman with no face licking her lips. I really like the transition from seeing all those things animated, and then later seeing them all set in reality. I tried to make the ending be the big "wow moment", even though it was established that the ending would be the same for all films entered in the festival.
About Jerry's film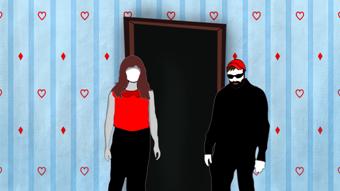 The Queen Of Hearts by Jerry Zoumis
The Queen of Hearts is a (mostly) animated short film about desire, duality and betrayal. The setting is a surreal dreamscape where memory and fantasy are intertwined. As the dream unfolds, hidden motives are revealed, and the dreamer must wake up and face the truth.
The production process
The animation was done by
rotoscope
: all scenes were actually filmed and then each frame was drawn over using a drawing tablet. This gave me a template to work with, but enough freedom to change whatever I wanted. For example: when you see the lady walking through the trees with her clothes off, it was actually my friend Alarna walking through my lounge room with her clothes on. All the animation was done in Flash and most backgrounds were done in Photoshop and Illustrator. I left the backgrounds until last because I thought that would be the easy part. When I realized that every three seconds required me to illustrate a whole new background I bought my first packet of cigarettes in 6 months. There are approximately 6,500 individually created frames of animation. It took almost three months from storyboard to completion, and by the end I had a callus on my drawing finger and my eyes were a beautiful shade of blood-shot. One piece of advice that I love is that if you're ever working on something and you're worried that you might not pull it off, chances are you're working on something pretty cool... and that's the motivation I needed to keep going.
Highlights Disasters and Surprises?
I remember thinking: "How hard can it be to make an animated short film?".... Yeah, turns out, quite hard. But it was my first time animating, and I know if I could go back in time with what I know now it would take half the time. The whole experience was a roller coaster of highlights and disappointments. I had Dr Google and Professor YouTube helping me along the way. The first 10 seconds of animation I did was of my friend Seb hopping on a motor bike... and that took me a week. It was at that point I realised I was going to have to step up my game and really learn all the tricks and features that Flash has to offer. Every little completed scene was a thrill to watch. Finally, adding music to the mix was when I started getting excited, and less worried that it might all implode in on itself.
Another highlight was when I first put
The Queen of Hearts on YouTube
, and I had two "dislikes" straight away. Seriously, I just thought that was so awesome. Knowing that two people hated my film on the first day it went online made me feel more proud of it for some strange reason.
True story: One day during filming, the electrician came over and he saw my friend Peter holding the video camera, Alarna sitting on a chair wearing a hooker wig, there were clothes on the floor, handcuffs on the table, and a big piece of paper stuck on the door that said Test Ride. I told him, "Don't worry about us, we're just making a movie"... After he left we all realised he probably thought we were making a porno. Good times!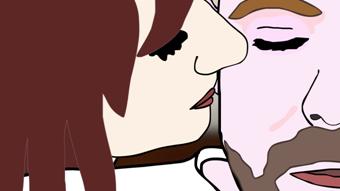 The Queen Of Hearts by Jerry Zoumis


Finding the soundtrack - "Storm Force Epic" by Bob Bradley & Paul Mottram
After searching through the music on the Audio Network website for 10 minutes, I found the perfect track. And then I found another more perfect track... and then I found another track even more perfect than the other one. I got a real buzz listening to some great stuff knowing it might end up as the soundtrack to my film. The music I used for my last film was the songs played by my keyboard when you press the demo button... so you can imagine my delight when I discovered Audio Network has such a vast variety of amazing tunes to pick from.
There were a few tracks I really liked, but
Storm Force Epic
was the one that worked the best. I told all my friends to turn the volume up loud when they watched it because the music really makes the film. There is a slightly menacing feel to it, with many rising peaks throughout that worked perfectly with the climactic moments in the film. There is a real industrial/electronic drive to this track that I love. I didn't know at first that the composers of
Storm Force Epic
,
Bob Bradley
and
Paul Mottram
, are such huge names in the industry. They have made music for many well known movies and games. It was kinda crazy knowing that my soundtrack was provided by those guys.
The Future...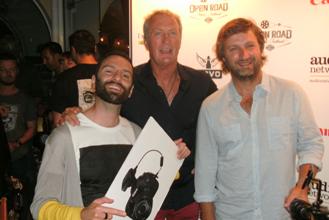 L to R: Jerry Zoumis, Bryan Brown, Gregor Jordan
Winning that camera (Canon EOS-7D) felt more like coming first, than coming second: that camera is exactly what I need. I normally use an ancient camcorder that makes all my films look like dodgy high school assignments (which truth be told, I don't really have a problem with, but it is nice to evolve sometimes). Now I will be able to do some really interesting things, like play around with stop motion. A new project has come up as a result of the Open Road Film Festival, but I'm not sure if I'm allowed to talk about it yet, but I'm excited and can't wait to get started. I have about 10 different "ideas books" all filled with random ideas I've had over the years, and now I can start working on some of them. I have too many ideas and don't know where to start... and that is definitely a good thing.
Jerry's film The Queen Of Hearts can be viewed on the 2012 Open Road Film Festival website, along with the other finalist films.