Scoring it Big: Music in Film

By: Film Director: Jack Jewers
Date: 19 Sep 2012
IT STARTS WITH A PLAYLIST . . .
For me, a film starts with the music. Literally.
A soundtrack is like a creative hotwire into my brain. Even if a film is still just some scribbled notes and a blank sheet of paper, it needs music to grow.
I'll start by making a playlist. I cherry pick music from anywhere – TV and film soundtracks, production music, classical pieces – anything that speaks to me in some way about what I'm trying to achieve.
(That's one reason why I'm a fan of Audio Network, by the way. They have a very far-sighted policy of letting you download a track for almost nothing, in order to try it out and just live with it a while.)
I'll have this playlist on my iPod for weeks as the film takes shape in my mind. I don't listen to much else. During one such process I discovered I'd played a single 3-minute track more than 100 times in the space of a couple of weeks.
I admit it's a touch 'all work and no play makes Jack a dull boy.' But I know of no other way.
ENTER THE COMPOSER
When it came to deciding on the music for my latest film, Shalom Kabul, I knew that it was going to be a tough ask of any composer. The film is based on the incredible story of the last Jews of Afghanistan.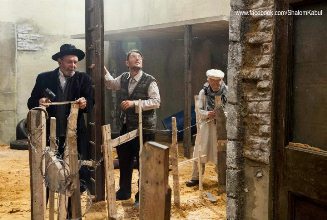 (photo courtesy of D.Brade)
There used to be a thriving Jewish community in the country, but by the year 2000, only two remained. They lived together in a derelict corner of Kabul, surrounded by the Taliban. And they couldn't stand each other.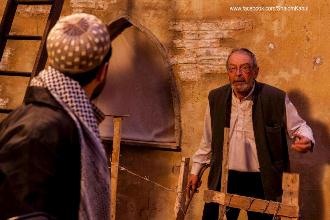 (photo courtesy of D.Brade)
But what could easily be a very worthy story is instead treated as a black comedy. I firmly believe that this makes it more powerful as a result. But, I accept, more controversial too.
Which is a nice way of saying that it could all go horribly wrong.
When I first met Debbie Wiseman, I gave her a copy of my guide playlist. The point was not to ask her to reproduce it; instead, I wanted to convey to her the essence of what I wanted and let her creativity do the rest.
A FINE LINE
But I was concerned about how she would pull off the fine balance between comedy and tragedy that the action demanded. Should comic scenes have comic scores? If so, were we risking a send-up? If not, would the comedy fall flat?
In the end we decided the music had to be played dead straight, with only the lightest comic touch from time to time. She came up with haunting themes for the main characters, mixing solo violin with ethnic flute in a way that said everything we were trying to get across about the loneliness of these two men, locked in their personal struggle while the weight of history collapsed around them.
The first time I heard Debbie's music, I was stunned. With it, Shalom Kabul was no longer a low-budget short. Suddenly it was a movie.
IS THAT REALLY MY MOVIE?
Audio Network liked what we were doing and funded a full recording with the Royal Philharmonic Orchestra, and they will soon add the music to their library. A month later we were at Angel Studios in Islington, recording the score.
At this point there was little for me to do but sit back and listen as the music was played live – a rare and thrilling experience for a director.
I don't know what will happen to Shalom Kabul next. I hope there will be every chance to see it at festivals and maybe even on TV. But I can tell you one thing: when trying to decide what to write for this article, I put on Debbie's soundtrack.
And I'm still listening to it now.