BBC Count of Monte Cristo Project: A Pair of Briefs... - Part 1

By: David Tobin
Date: 19 Nov 2012
Background
A client within a client… The BBC came to Audio Network wanting music for a new radio production for their forthcoming drama series on Radio 4, A Count of Monte Cristo and I'm delighted to say that Audio Network asked Jeff Meegan and I to do it. The music was written specifically to the Beeb's brief, although it's now available in the amazing Audio Network library.
Conversations with the BBC and Temp Tracks
Jeremy Mortimer, Head of Radio 4 drama, explained that he wanted each piece of music to represent a character. He gave us some ideas of tracks on the website that were in the right area - that's what we call "temp tracks", the ones that were quite relevant here were Seven Seas and ValseTriste.
It was agreed we'd use a mixture of live instruments and MIDI. Jeff and I suggested we'd get the most flexibility from scoring for a string quartet and a couple of live solo instruments. The strings could then be integrated with MIDI and we'd blur the edges a little.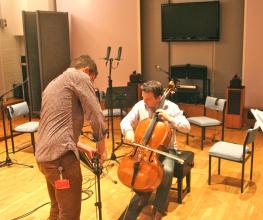 Writing Style
Some composers like to have as much freedom as possible, but I prefer a really specific brief, so I understand exactly what is required. My goal was to chip away at the brief until I was left with clearly defined boundaries for each piece.
Transatlantic Collaboration
Being based in Chicago, Jeff couldn't be present at meetings, so there's a lot of trust involved in our relationship - but that's what makes it work. Although the 6 hour time difference and the bad Skype quality sometimes makes it frustrating!
Even after several years, Jeff and I still approach collaborating differently every time although patterns do emerge. Find out more about another of our projects here.
The key to a good collaboration is great communication, no egos and a skill-set that is not identical and crosses over in the right places. It also seems essential that we are great friends –it's too many hours working with someone if you don't like them!
Musical Inspiration
The period nature of this piece and its geographical setting were two of the factors that defined what we listened to for inspiration –a necessity for me.
Early 19th century French waltzes and seafaring themes made up just some of my listening, but we also took inspiration from an old Catalan folk tune, Sephardic Jewish melodies and even a work from the George Fenton score of the 1993 movie - The Crucible. Once I've listened to these however, I don't revisit them so as to not bury any themes in my subconscious.
Work Allocation
My focus was the more classically acoustic works. Any MIDI that was likely to remain in the final version was produced in Logic pro but everything was just quickly mocked up for the Beeb to approve.
Recording
The live recordings took place over two days at the Royal College of Music, South Kensington. Jeff wasn't able to fly over for these, so I took on producing the string quartet and solo string & Oboe sessions.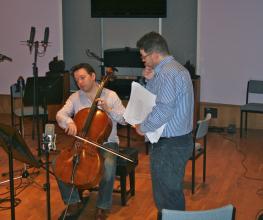 My focus was to make sure all the musicians understood emotionally what each piece's function was - the key to a successful recording.
Editing & Completion
Editing, for me, is the most arduous part of the process, but sometimes the most compelling. It's the first real chance to hear what we will end up with and sometimes there are hidden gems within works which become usable nuggets of their own.
Each work will be cut into multiple versions for the catalogue, and there's no point in pouring love and attention into the writing and recording unless we intend to do the same when we cut it all together. It's time for some VERY strong coffee!! See what Jeff makes of the collaboration, based in Chicago..
*The Count of Monte Cristo will be broadcast in the Classic Serial slot on BBC Radio 4 from 3.00pm Sunday 25th November to Sunday 16th December, with each episode repeated the following Saturday at 9.00pm.
All episodes will be available on the BBC website after broadcast until Saturday 22nd December.